"Secretariat's Legacy" by Patricia McQueen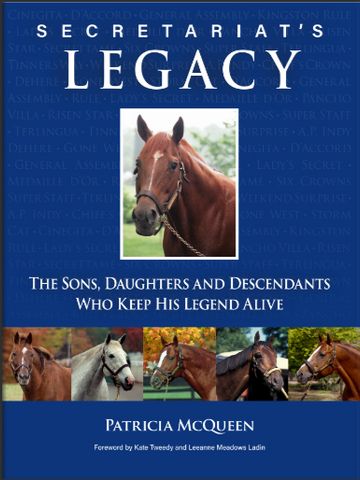 In Secretariat's Legacy, you will learn the stories of Secretariat's top offspring – from stakes winners like Lady's Secret, Risen Star, General Assembly, Tinners Way and Kingston Rule, to important daughters like Terlingua, Weekend Surprise, Secrettame and Six Crowns. And plenty more. It's a one-of-a-kind look at Secretariat's descendants and their impact on Thoroughbred racing and breeding.
A 9x12" hardcover, with 298 pages and 282 photos, mostly in color. While the narrative is important, the book contains the largest collection of photos ever assembled of Secretariat's stakes winners and other key offspring, gathered from around the world. Foreword by Kate Tweedy (daughter of Secretariat's owner Penny Chenery) and Leeanne Meadows Ladin (historian, co-author with Kate Tweedy of Secretariat's Meadow: The Land, The Family, The Legend).
​
---
More from this collection