---
"Doing the Usual, Unusually Well: A History of Claiborne Farm" by Edward L. Bowen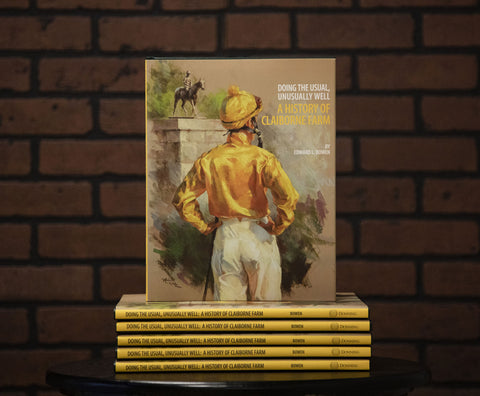 In a new book "which recalls and reviews a century-plus of practicality laced with idealism, of hard work rewarded by frequent glories, of striving driven by inner strength and character," Edward L. Bowen delves into the history of Claiborne Farm and the Hancock family's involvement in the Thoroughbred industry for over five generations.
Photographs featured in the book are a combination of photos by Dell Hancock as well as historical images from the Keeneland Library. 
127 pages, hardcover.
The front cover features the art work CLAIBORNE FARM COLORS, by Andre Pater, Private Collection. The back cover features photographs from Claiborne's history and the iconic Claiborne Farm logo.